Experience Greek Tradition and Hospitality
Discover a part of Naxos' Agricultural History
Visit us at the Eggares Olive Press museum, café and shop and gain insight into one of nature's most basic fruits and staples of the Mediterranean diet.
Take part in a delightful free tasting of everything olive oil and more: from Greek olive varieties to specialty infused olive oils, homemade seasonal marmalades, vegan olive oil sweets.
Enjoy a menu of local seasonal snacks beverages at our charming Eggares Olive Press Café outdoor patio.
Entrance to the museum, tour, presentation and sample tastings are offered free of charge to all visitors.
Tour operators interested in special group visits are welcome.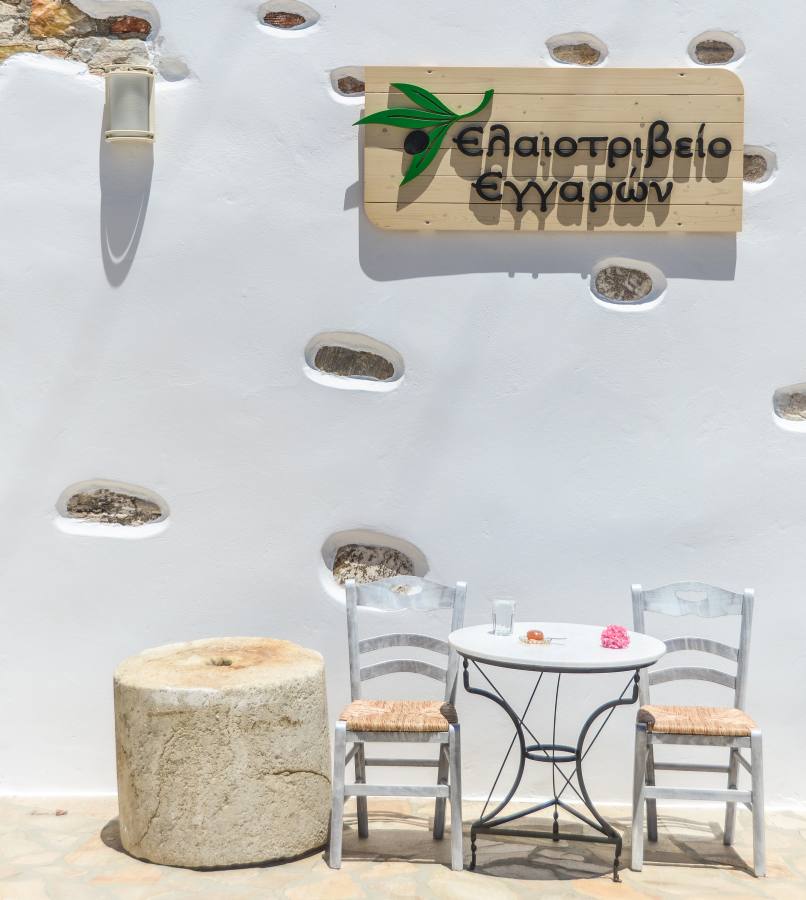 Location
The Eggares Olive Press Museum, Café & Shop is located in the village of Eggares, on the western side of Naxos. Approximately 8 km north of the main town, Chora, our property — nestled next to the church of the Assumption of Virgin Mary — is located and on the main road that connects Chora with the seaside settlement, Apollonas,
A traditional village with fertile land and vegetation, Eggares crosses two of Naxos's popular bike paths #1 and #4 as well as hiking trail #11. The village's green landscape makes it a popular destination for those seeking to immerse themselves in Naxos's nature. Eggares has a population of 150 permanent residents in the winter and 350 in the summer.
We look forward to your visit!
Also of interest:
Nearby: Ammitis Beach; Village of Galini
Church: Assumption of Virgin Mary, Eggares
How to get here:
By car, taxi, private tour, private buses
Open: April 4st through October 6th
Seven days per week, 10:00 a.m. - 6:00 p.m.
Entrance, guided tour and tastings: Free
Testimonials
What visitors say about us
"
"Small hidden olive museum with character and small informative tour. Different olive oil, cake and other tastings (free)! Must do while in Naxos!"
San Francisco, California
"Cute museum, super helpful staff that show their passion throughout. Loads of tasters at the end and we stayed longer to have some delicious coffee accompanied by diary free olive oil cake! Great stop if you're driving through the small towns in Naxos."
"You can learn about how olives were produced a long time ago. There are many products made from olives. The olive tasting is scrumptious. You have to try it! I love the olive jam! They have infused olive oil, jams, lotions, cookies, and more! We enjoyed visiting and taking home some goodies!"
"4th visit to Eggares Olive Press Museum. Staff are amazingly friendly and informative and their oils are the best."
"We were amazed by the introduction to olive pressing process and the lovely view from the tiny sitting outside. The place is full of history. We took some olive oil with oregano and olive paste back home. The sweet olive are awesome, not to be missed out!"
Abu Dhabi, United Arab Emirates